Free standard shipping over $25 and free returns.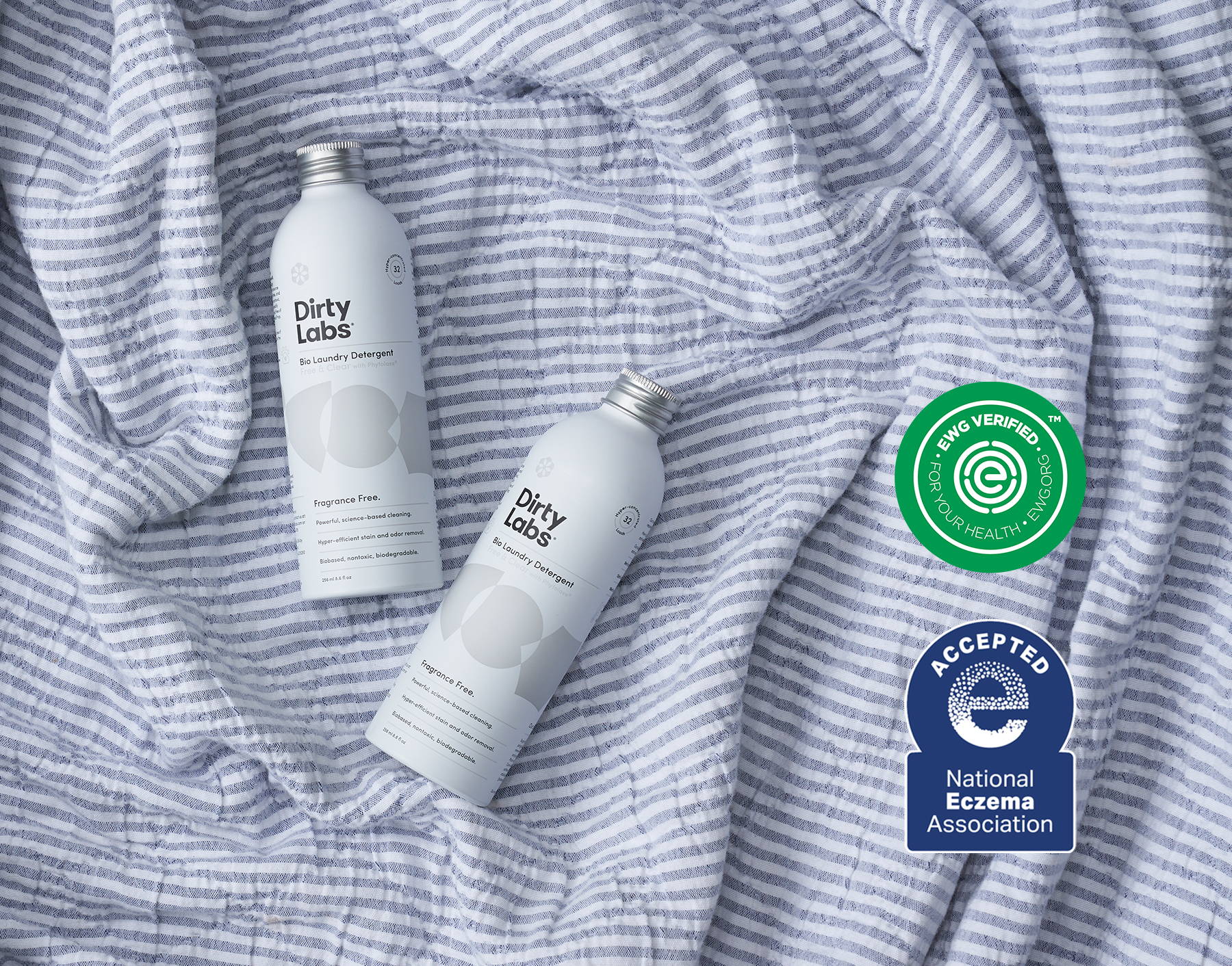 A smarter laundry detergent, made for the most sensitive skin.

Phytolase®, our advanced enzyme cleaning technology precision targets stains and odors at their source while being extra gentle for you, your clothes, and the planet.


"Hasn't irritated my eczema and acne-prone skin. I love using the unscented for my scrubs."
"Love this for our baby! We tried quite a few "gentle" detergents but they all caused rashes on our baby's skin. Once we started using Dirty Labs Free & Clear, her rashes went away!"
"I purchased the Free & Clear version mainly because it was EWG Verified which is very important to me. It seems to do a great job with cleaning my laundry."
"Love it! Love the fragrance-free, it's non-toxic, easy recycling, quick delivery, great communication! What more could you ask for?"
"My skin can be sensitive and detergent can be harsh. I feel clean and my skin is better for it!"
"I love that I don't have to worry about my child's sensitive skin with this product. I ordered the no-scent product and it was truly no scent."
"Love this product! It's natural and safe for my sensitive skin. It has gotten out every single stain with no problem and leaves the whites white and the colors bright without optical brighteners."
When you see the EWG VERIFIED™ mark, you can be sure your detergent's free from EWG's chemicals of concern and meets their strictest standards for your health. Only 6 brands have been approved for the EWG VERIFIED™ mark, their highest standard for healthy cleaning. This means that Dirty Labs is in the top 1.9% of cleanest laundry brands.

If it's harmful to you, your clothes, or the planet, we leave it out.

Our products are free of known carcinogens, toxins, and pollutants. And we've gone above and beyond industry safety requirements to eliminate all CA Prop 65 chemicals of concern and EU listed fragrance allergens.






Bio Laundry Detergent with Phytolase®

Unscented. Hypoallergenic. Enzyme-Driven.

EPA Safer Choice Partner of the Year.

We're proud to be a 2021 Safer Choice Partner of the Year Award Winner. Our formula removes excess water for an 11x concentrated liquid laundry which creates a detergent more than five times smaller and lighter than many retail laundry detergents. This means significantly less fuel used and fewer trucks needed to transport products which can reduce greenhouse gas emissions and other impacts on climate change and contributes to EPA's goal of addressing climate change.

Recognized by the National Eczema Association.

Dirty Labs Free & Clear is proud to be Recognized by the National Eczema Association. Free & Clear has been dermatologist-tested to be non-irritating, non-sensitizing, and hypoallergenic.

Feel good about a smarter choice.

Many conventional detergents and cleaners still rely on harsh chemicals for cleaning efficacy and those ingredients can be problematic for skin health. Our Free & Clear formula is clinically tested and dermatologist recommended to be free of the toxic ingredients that commonly irritate our skin.